In the case of the completion of housing decoration, many people think of the application of activated carbon to clean household odor, but there are many kinds of activated carbon products on the market, and people who do not know about activated carbon do not know how to choose. The next side of the network to introduce the role of honeycomb activated carbon and honeycomb activated carbon precautions.
What is the function of honeycomb activated carbon
1. Deodorization of honeycomb activated carbon room:
In the bathroom, kitchen, refrigerator, shoe rack, shoes embedded in a few bags of activated carbon, odor, odor will disappear.
2. Detoxification in honeycomb activated carbon room:
It can control residential gas, absorb ammonia, indoor formaldehyde, volatile organic matter, benzene, xylene and other harmful and harmful organic chemical vapor released from building decoration materials, and can adjust the indoor space environment humidity.
3. Honeycomb activated carbon indoor air treatment:
Activated carbon can be placed in office buildings, company offices, meeting rooms, hotels, central air-conditioning rooms, leisure and entertainment clubs, furniture, cars and other places to remove odor, disinfect and disinfect indoor air.
4. Prevention and removal of mould by honeycomb activated carbon
The storage of ancient calligraphy and painting books can keep the original color of the precious ancient calligraphy and painting books and keep them safe. The adsorption and catalysis can make the indoor space without breeding of Aspergillus flavus. It not only solves the problem of mildew, but also removes the offensive odor.
5. Sterilization in honeycomb activated carbon room:
Reasonable removal of Escherichia coli, Streptococcus flavus, white ringworm, Aspergillus flavus, ulcerative bacteria, Pseudomonas aeruginosa and other pathogens, such as enterovirus, influenza, fever, cold, filtration, virus infection and other pathogens spread.
Notice of honeycomb activated carbon
1. Honeycomb activated carbon can not clean up the dirt blocked in the porosity of activated carbon by ordinary simple cleaning. Therefore, the activated carbon should be removed and replaced on time as much as possible, so as to prevent the activated carbon from losing its function due to "adsorption saturation state". It is suggested that the activated carbon should be replaced once or twice a month.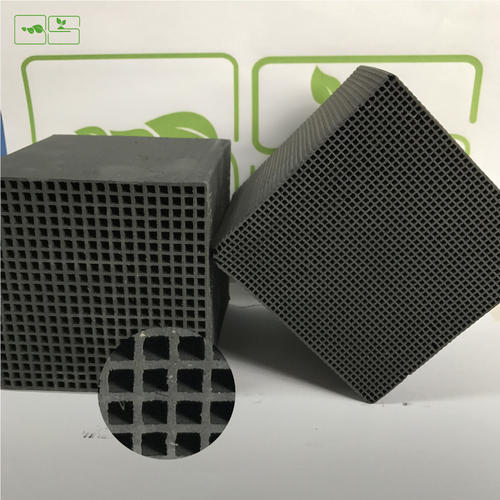 2. The high efficiency of honeycomb activated carbon in solving water body is related to the amount of solution used, which is generally "the actual effect of solving water body by using more amount is relatively good".
3. After the application of quantitative analysis of honeycomb activated carbon, we should often observe the change of water body in the early stage of application, and pay attention to the observation results, so as to distinguish how long the activated carbon is invalid and replace.
4. In the application of drugs for the treatment of fish diseases, the honeycomb activated carbon should be temporarily removed and suspended. In order to prevent drugs from being absorbed by activated carbon and reduce the therapeutic effect.
5. The dust should be removed before the application of honeycomb activated carbon, otherwise the gray black dust will temporarily endanger the cleanliness of water body. However, it is suggested that it is not necessary to clean the water with fresh drinking water immediately. Once the porous porosity of activated carbon absorbs a lot of chlorine and its bleaching solution in drinking water, it will damage the water body when it is put into the filter device.
The key raw material of honeycomb activated carbon is made of high-grade raw coal activated carbon powder, high iodine value coconut shell activated carbon powder and strong fading wood activated carbon powder. The bigger characteristic of honeycomb activated carbon is that the cleaning effect is very good, and the wind friction resistance is small, which can completely meet the first class environmental protection standard of organic waste gas in China.